#SuzyPFW: Karl Lagerfeld's Dangerous Precedent
文章導讀
Copying the Chanel model has invited more flops than triumphs when designers try to follow a master of reinvention
敬請期待中文版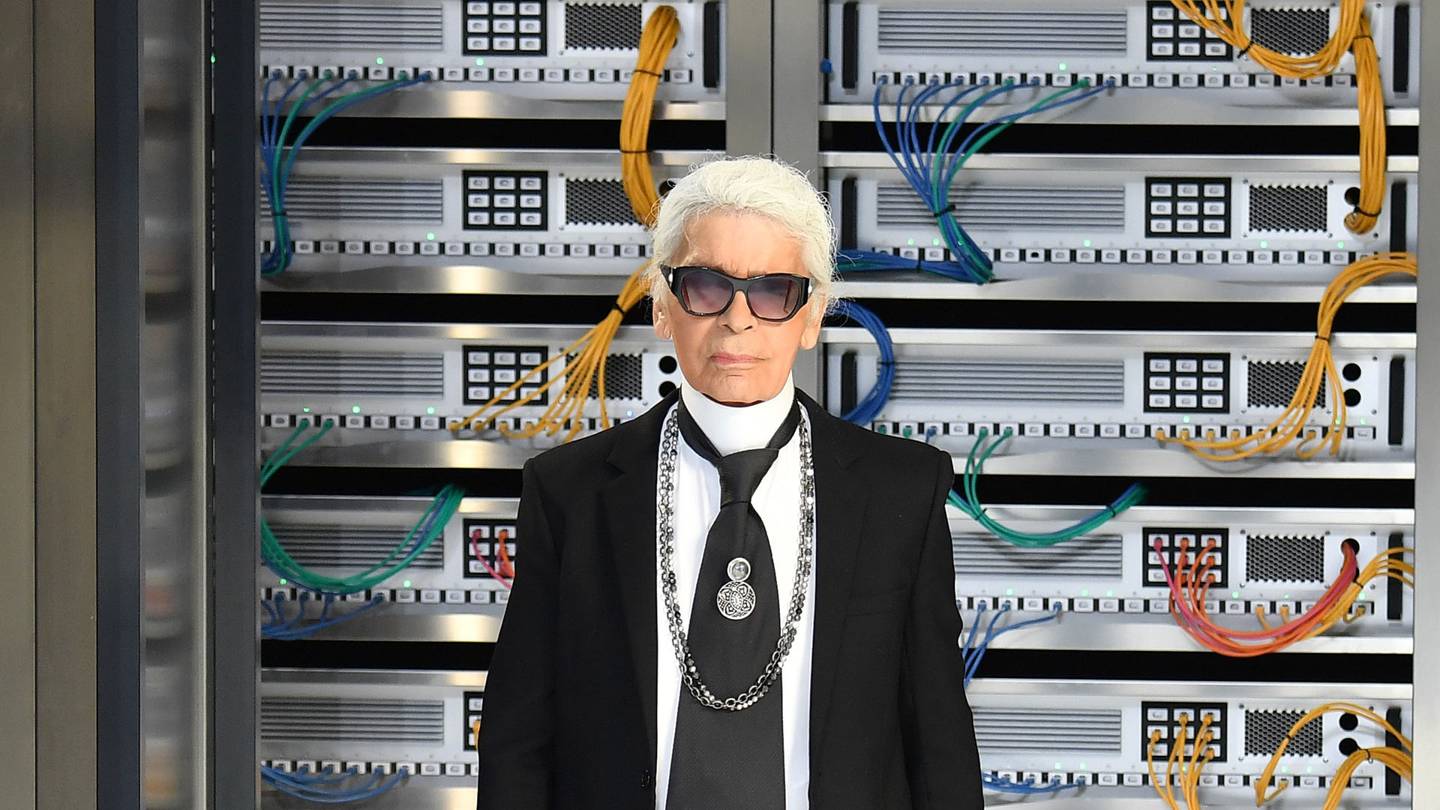 Karl Lagerfeld at the finale of his Chanel Spring/Summer 2017 show, with a typically theatrical set that transformed the Grand Palais into a futuristic hub of computer mainframes
Getty Images
Is the legacy of Karl Lagerfeld a triumphant success story of steering past into present? Or a disastrous precedent for a generation of young designers obliged to use their energy and originality to prop up established brands?
'King Karl' was an undisputed genius at morphing into another designer's mind. For 36 years, from 1983 until his death last month, he played Coco, breathing fresh life into Chanel. For his other day job at Fendi, he proved himself a master of reinvention and spent an unbelievable 51 years at the helm.
Only his own KL label lagged hopelessly behind. I once got up the courage to ask him how he felt in his soul about Karl Lagerfeld, the brand. He replied, "This is a very strange thing; it's me and it's not me. It's me from outside myself. It's very strange."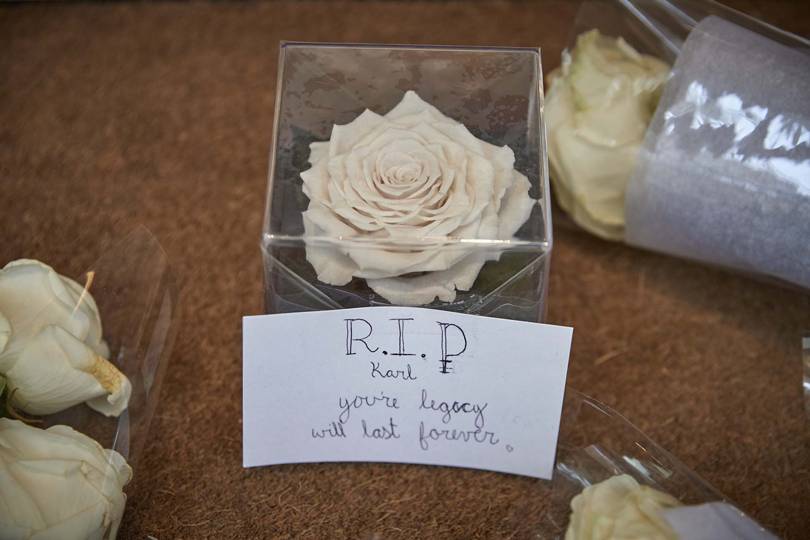 A floral tribute to Karl Lagerfeld outside the headquarters of Chanel in Paris, February 2019
Getty
Indeed. But now that Karl has finally left the stage, it should be admitted that the Lagerfeld story had long ago turned out to be a tough act to follow. Almost no fashion company has had the same success as Chanel, with designers struggling to resuscitate brands after the founder has gone and often a stream of replacements having already tried to take over.
The most potent and recent debacle has been at Calvin Klein, where, after letting go designer Raf Simons before his three-year contract was up, the New York company announced that the Belgian designer would not be replaced. Giving up on high fashion, the brand is now planning to focus on jeans and underwear. The founder, whose streamlined style defined an epoch of American fashion, was long off the stage. Simons, with his skill at men's tailoring and experience at Dior, might have seemed a wise choice. But it was not to be.
New York fashion has seen other designers, like Donna Karan, fall out of sight. Meanwhile, new designers at Carolina Herrera and Oscar de la Renta (after a couple of false starts) are trying to keep alive the American dream.
With fashion schools, especially in the UK, turning out well-educated students who can easily find jobs as part of a brand's team, why is it so complicated to find replacements at the top?
The answer is obvious. There are few hired hands who can produce interesting and dynamic collections in the style of a founder. If they are exceptionally creative, they have their own personalities and find it tough to mimic an existing style. The clearest example of this is John Galliano, chastened by his bad behaviour at Dior, who took over at Maison Margiela in 2014 and is only now, five years later and at age 58, reaching a fashion equilibrium with that brand
Elsewhere, the examples over three decades of brands swapping old lamps for new is beginning to dim. Some houses continue to make and sell clothes, without a show. Others quietly fade. Yet the urge to succeed in fashion grows ever stronger, with the number of young designers hoping to be considered for the LVMH Prize becoming more plentiful each year.
So how are designers coping when they are thrown to the lions?
Nina Ricci: A duo's double vision

The classic Nina Ricci fragrance from 1948, 'L'Air du Temps' – meaning 'the spirit of the times' – defines the image of the historic brand: prettiness in an indisputably feminine way.
What came out on the runway as the definitive fashion statement from the design duo new to the house? A mannish black trouser suit, big, even baggy, but with a flurry of a white top with what looked like an old-fashioned handkerchief waving around the waist. Oh, yes! And it was topped by a deep-black hat.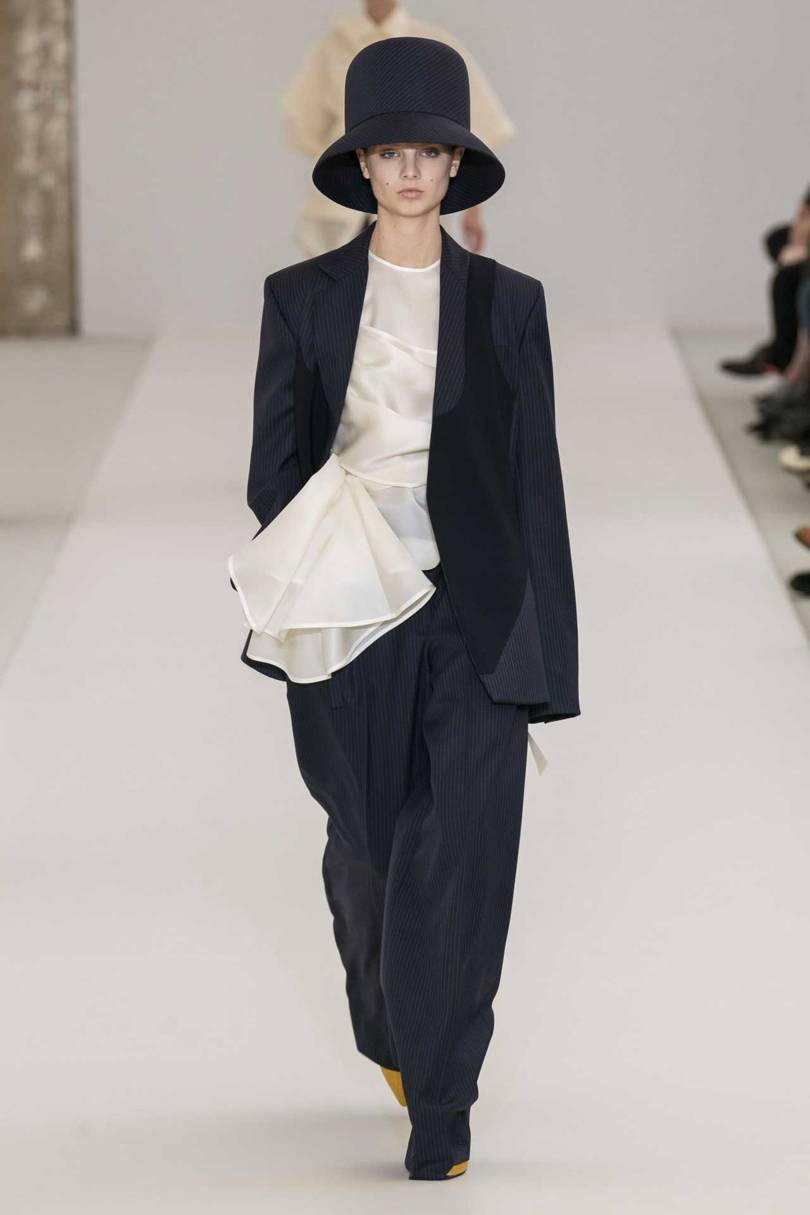 Nina Ricci Autumn/Winter 2019
GoRunway
Rushemy Botter and Lisi Herrebrugh pulled off one skill from the collection's get-go: It looked young. The big, semi-transparent white shirt, the trouser suit in a fleshy beige, the tailoring and floaty fabrics shown together, perhaps in sunshine yellow, all suggested a youthful approach.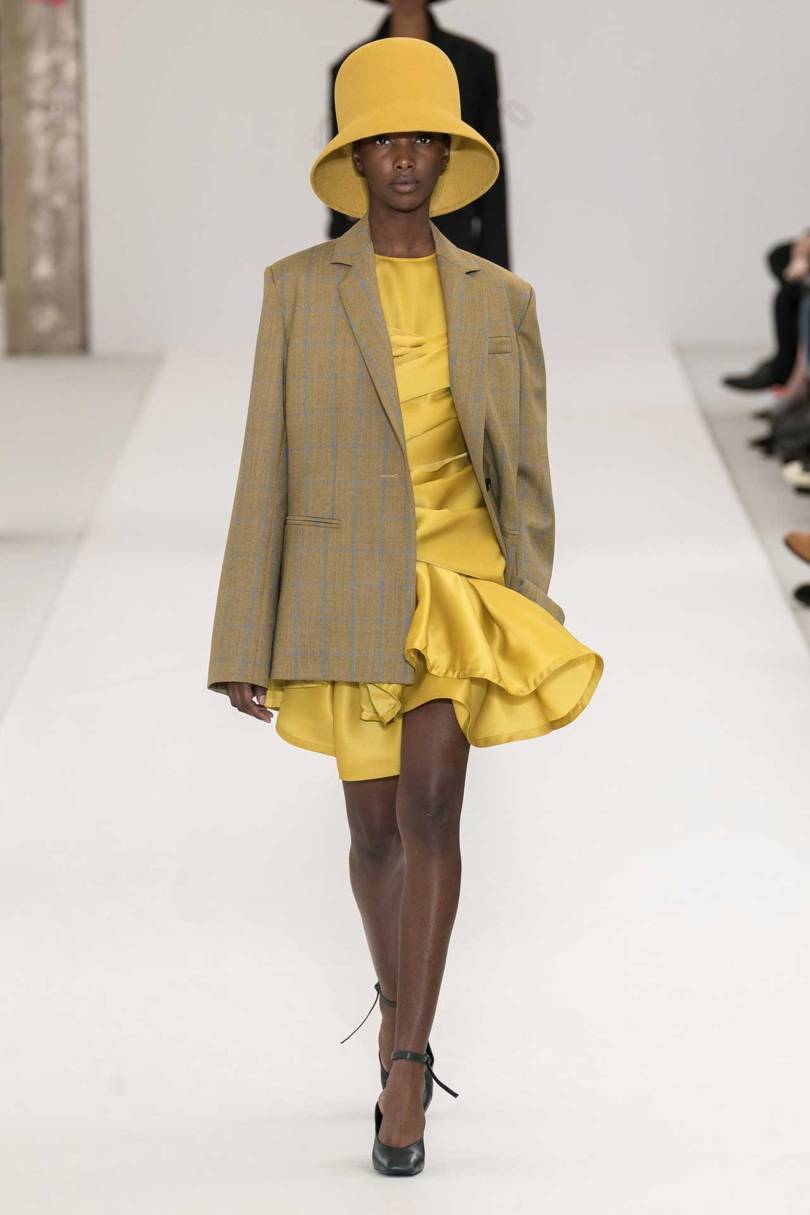 Nina Ricci Autumn/Winter 2019
GoRunway
"We are trying to find fluidity in different kinds of materials, shapes and garments," said Rushemy Botter, who co-founded the Botter brand with Lisi. "Fluidity doesn't mean a dress, especially. It can also be a suit. And we try to capture that without it being like a man's suit. We keep it with the seams; having a man's sleeves and this elegant shape and natural proportions that are shaped by the bathing suit."
Lisi contributed her vision: "For us, it was very important that if Nina Ricci's going to make a new step forward, we don't forget the past," she said. "So we researched a lot and tried to find our own way to interpret the modern elegant woman, with our own inspiration. We tried to capture her in a more contemporary way."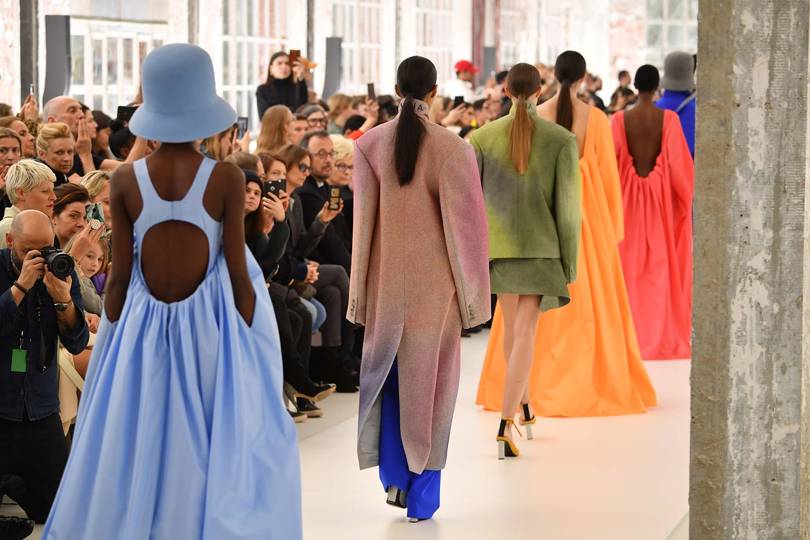 Nina Ricci Autumn/Winter 2019
Getty Images
The tall hats came from a historic picture of Nina Ricci women in bathing suits on the beach. And if there was a lack of the traditional prettiness that surrounded the brand's history, there were modern colours such as fruity orange or shaded leaf green.
The show was youthful and fresh. But only time will tell if the duo can capture the moment, like that famous fragrance.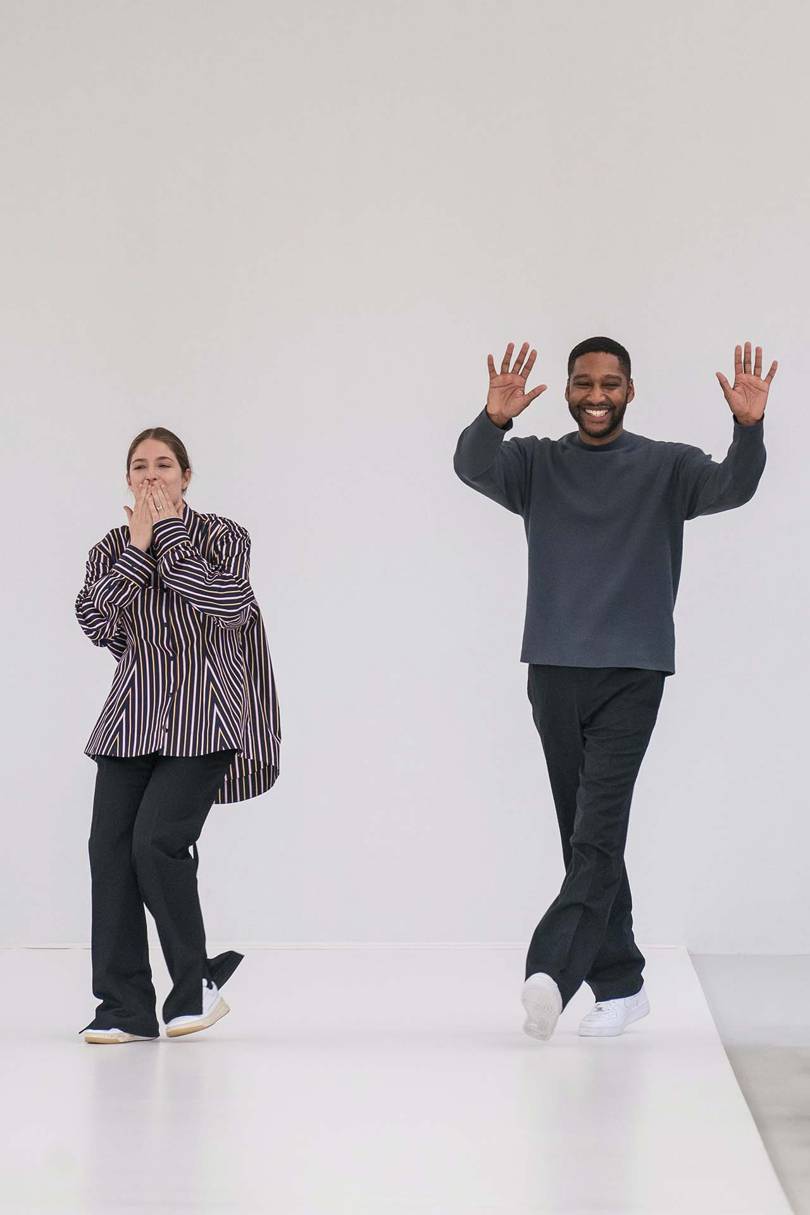 Lisi Herrebrugh (left) and Rushemy Botter, the creative duo heading Nina Ricci, at the finale of their Autumn/Winter 2019 show
GoRunway
Paco Rabanne by Julien Dossena

At Paco Rabanne, Julien Dossena has made a sophisticated success out of the Sixties brand built on metallics. But after five years of modernising the founder's image, the designer came out for Autumn/Winter 2019… as himself.
Instead of the clink and clank of light metals, the show opened in a haze of prettiness: a floral coat over a dress with a bold flower print, all on a garden-patterned carpet, as if in a holiday-hotel lobby.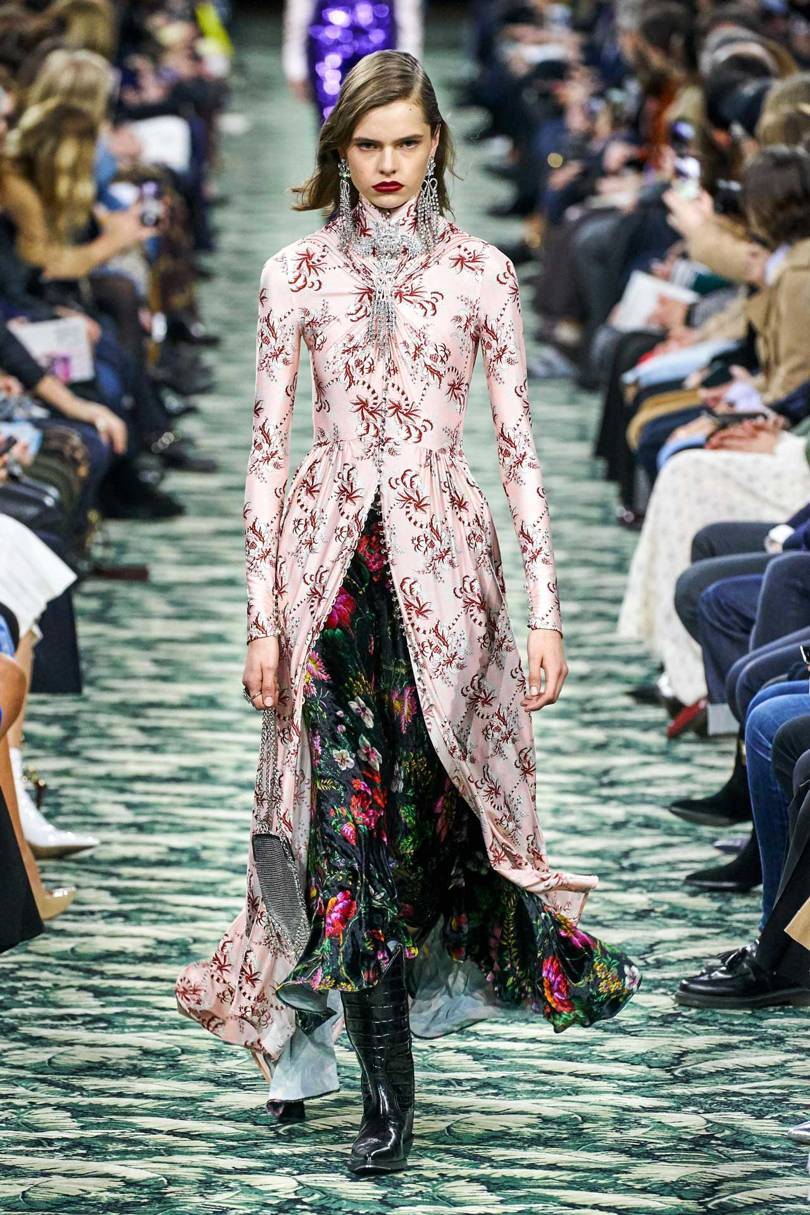 Paco Rabanne by Julien Dossena, Autumn/Winter 2019
GoRunway
The glitter? It was mostly in the rivulets of jewelry – sparkling earrings, necklaces and other decoration, although there were the occasional glitter trousers and a metallic dress as if woven in silver in Thirties Hollywood style. Nowhere did the collection suggest the Sixties era of 'Whacko Paco', as the French called him, back in the day when he created Jane Fonda's look in the 1968 fantasy film, Barbarella.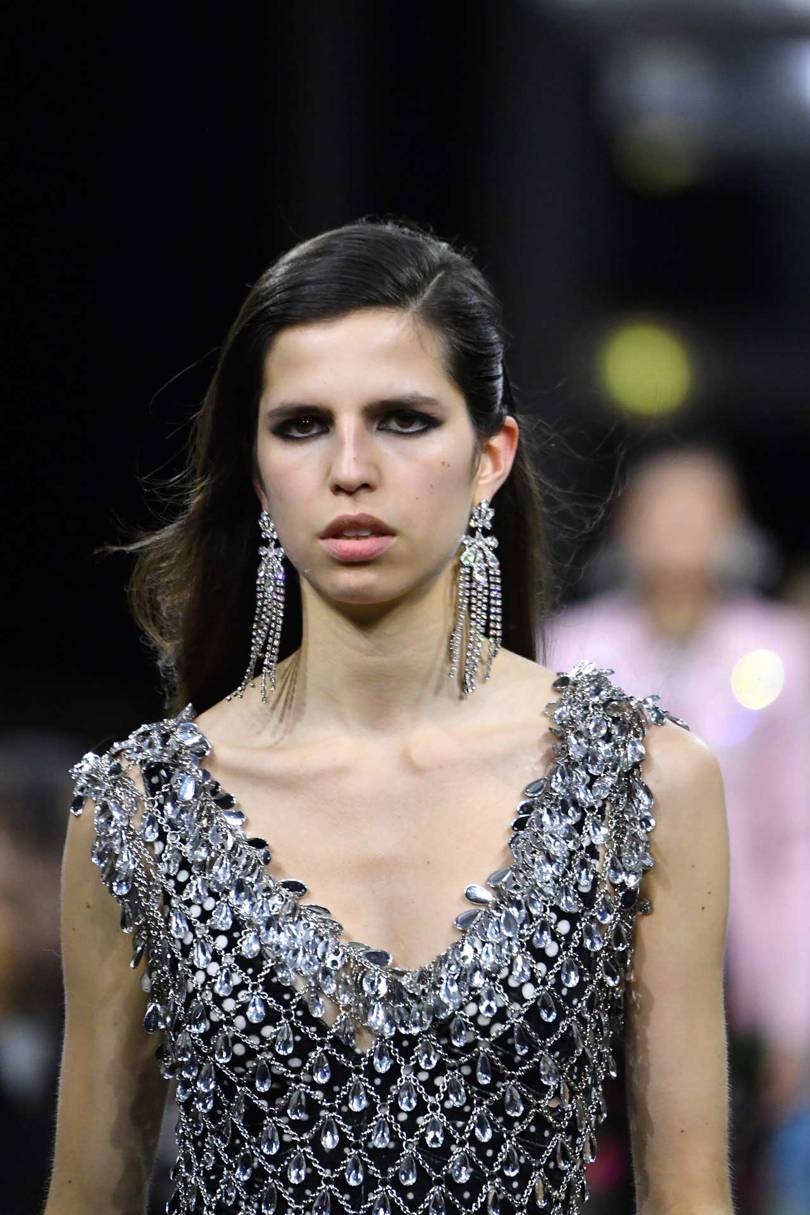 Julien Dossena's designs for Paco Rabanne Autumn/Winter 2019 touched on the founder's love of metallics but without the Space-Age Futurism
Getty Images
"Clothes should be inspired by beauty and refinement, not playing with gimmicks. Just a really beautiful dress that is contemporary," Dossena explained. "For me it can be a ceremony for artistic people, with an aristocratic feeling of the English Royal family from the cardigan. And then there are cut-off dresses like Marlene Dietrich's.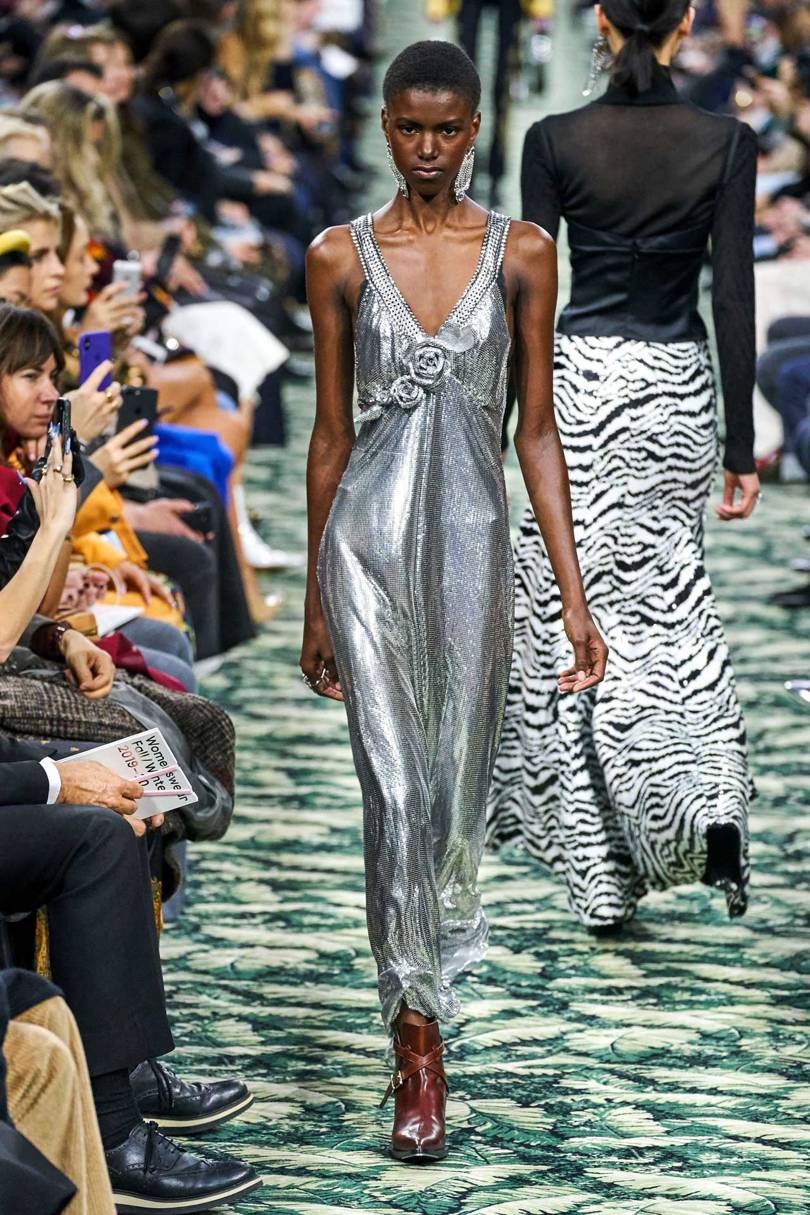 Paco Rabanne by Julien Dossena, Autumn/Winter 2019
GoRunway
"Beauty and refinement can empower and, to me, clothes can give you that strength," the designer continued.
There was everything in this pretty and desirable collection from Art Deco to Hollywood – except for the memory of Paco Rabanne and his passion for Futurism, which Dossena had previously courted so assiduously.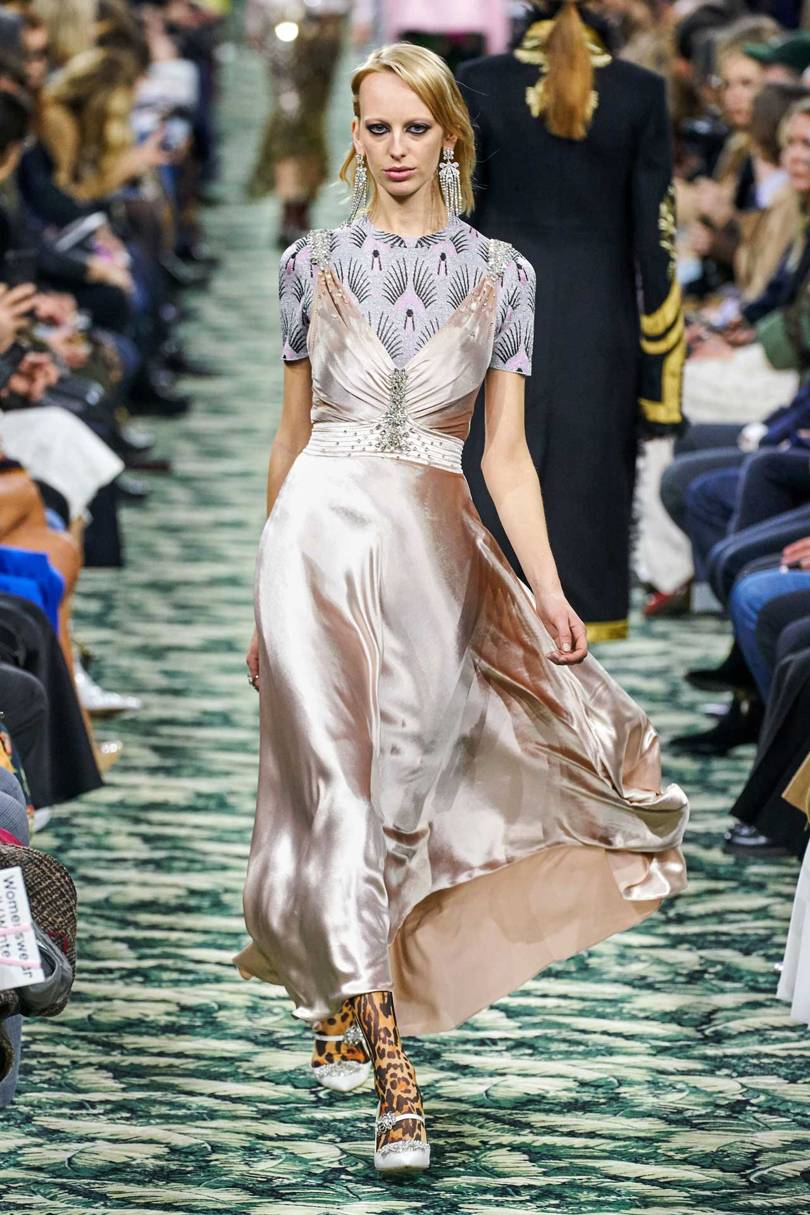 Paco Rabanne by Julien Dossena, Autumn/Winter 2019
GoRunway
And there is the drama for all those designers working under a borrowed name. Stay the course – or break free?
I wonder what Karl – who once made a drawing for me of how he would design for Dior and Saint Laurent – would have made of Paco?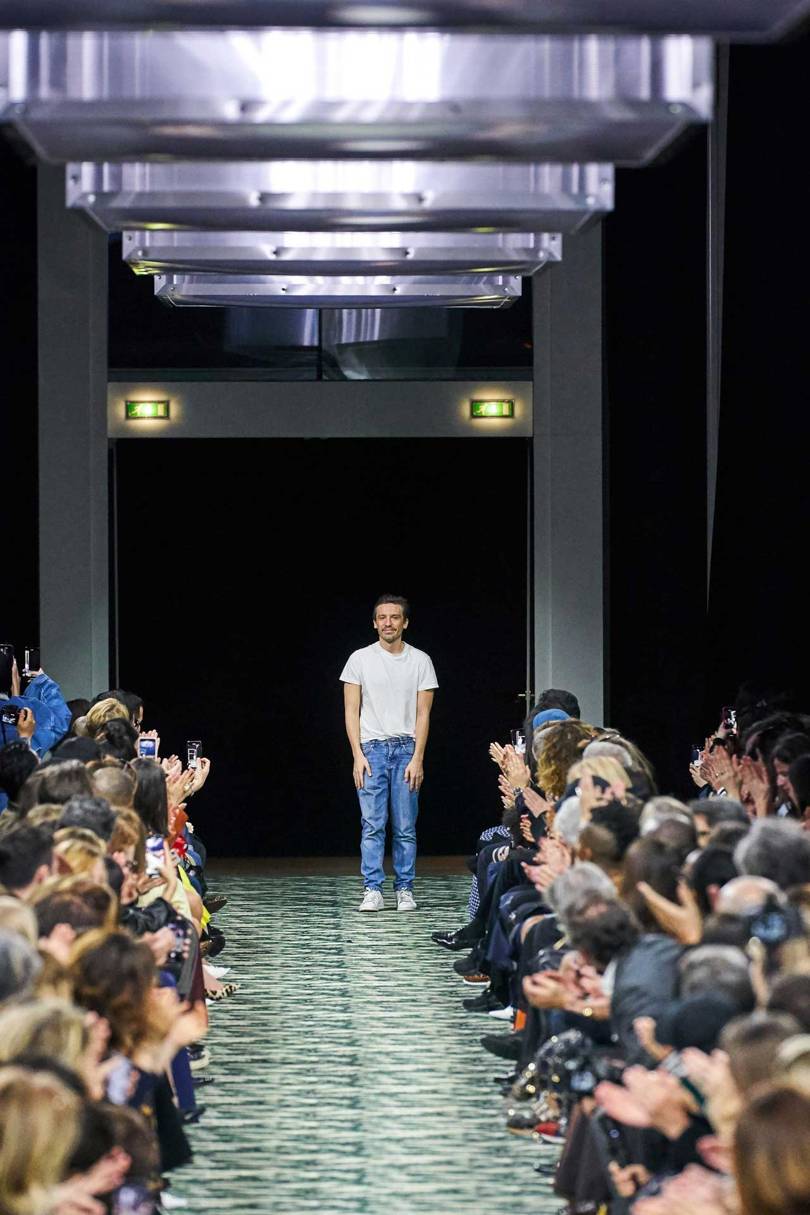 Julien Dossena, Creative Director of Paco Rabanne, takes a bow at the end of his Autumn/Winter 2019 show
GoRunway
轉載聲明
本內容系VOGUE時尚網原創或經官方授權編譯轉載,嚴禁以任何形式或方法轉載或使用,違者追究法律責任。
將本文分享到
你可能還會喜歡
更多相關網站內容